Gifarific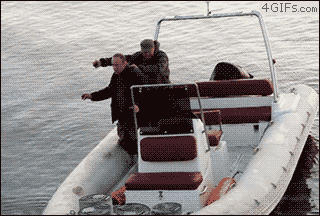 Jeeze Jerry, next time put your purse down first.
Actually, if this GIF isn't manipulated in some way, Jerry is a goner. But it brings the whole life cycle thing into perfect perspective – Jerry and Boris go fishing, blow their heads off, and now the fish will eat their heads; later, some other schmucks will go fishing and end up catching and eating the fish who ate Boris and Jerry's head, and all this because Jerry couldn't throw a grenade for shit. It's like the ocean always gives back what it gets.
Life is beautiful when put in perspective, ainit?