Thursday, January 17th, 2013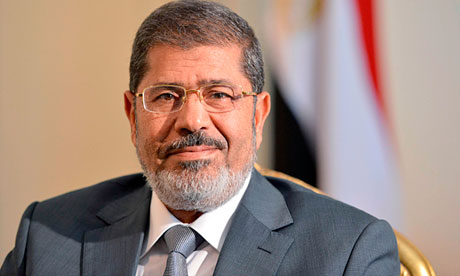 Backing down from past remarks calling Jews "pigs" and "bloodsuckers", Obama's BFF, President Morsi of Egypt, clarified his non-statements to American senators yesterday:
Egypt's Islamist president sought Wednesday to defuse Washington's anger over his past remarks urging hatred of Jews and calling Zionists "pigs" and "bloodsuckers," telling visiting U.S. senators that his comments were a denunciation of Israeli policies.
Right. Israel's policies are "pigish" and "bloodsuckerish." Gotcha.
It's never a bad time to right a wrong, and it's good to see Morsi came to his senses without any outside interference or coercion:
The delegation and Morsi had a "constructive discussion" about the remarks, he told reporters.

Still, despite calls by some in Washington to rein in aid to Egypt's Islamist-led government, McCain said the delegation will press in Congress for approval of some $480 million in new assistance to Cairo.
When you have half a billion dollars staring you in the gob, it's never a bad time to play happy face with American senators.
But what were the exact remarks Morsi actually made, did he really call Israeli policies "pigish" and "bloodsuckerish?"
In the video, Morsi refers to "Zionists" as "bloodsuckers who attack Palestinians" as well as "the descendants of apes and pigs." He says Egyptians should nurse their children on "hatred for them: for Zionists, for Jews. They must be breast-fed hatred." He also calls President Barack Obama a liar.

Morsi, who came to office in June, told the visiting U.S. delegation on Wednesday that the remarks were taken out of context, aimed at criticizing Israeli policies, and not Jews, according to presidential spokesman Yasser Ali.
Obviously his comments were made about Israeli policies and not Jews themselves, and you can tell by how many times he referenced the words Jews and Zionists.
Silence.
Tumbleweeds.
The U.S. gives $1.3 billion in annual military assistance to Egypt since 1979 peace treaty and now gives Egypt $250 million annually in economic aid. Washington is now considering a package of debt relief and further aid to help salvage the economy.

"All of us are supportive," said McCain. "We are working hard to try to see that this money is forthcoming."
Because Morsi and crew are such good guys.